Permaculture FEAST uses an innovative collective team based teaching approach. We focus on participatory learning and use permaculture principles, as well as critical thinking in our teaching pedagogy.
Lisa DePiano is a certified permaculture designer/teacher and faculty member for the Yestermorrow Design/Build School and the University of Massachusetts. For the last 13 years she has taught permaculture to hundreds of students in dozens of courses. She  co-founded  the Montview Neighborhood Farm,  one of the first human powered urban-farm and edible forest garden in the co
untry and worked to establish the bicycle powered compost program while riding with the worker-owned collective Pedal People. She received her masters degree in Regional Planning from the University of Massachusetts and loves working with communities to create the world they want to live in.  She has studied permaculture with Starhawk, Penny Livingston Stark, and Dave Jacke and has taught all over the U.S including the Menominee Nation,  Homer, AK, New York City, Miami, FL the University of Vermont, University of Massachusetts, and Wesleyan University. She runs the Mobile Design Lab which specializes in participatory permaculture design and installation.
Jonathan Bates runs Food Forest Farm Permaculture Nursery, a local source for useful, edible, hard to find plants and seeds. He's been studying, creating and working with rural and urban gardens in the Connecticut River Valley for the last nine years, and is a co-designer and inhabitant of an edible forest garden in Holyoke, MA featured in the book Edible Forest Gardens. With a bachelors degree in Biology, and M.A. in Social Ecology from the Institute for Social Ecology, Jonathan loves wild crafting with friends, and working with folks to better the world we live in. He co-founded and is on the board of the Apios Institute, is a teacher at the Yestermorrow Design/Build School, works with the Center for Ecological Technology, and is a farmer with Nuestras Raices, Inc.

Javiera Benavente is an artist, popular educator and cultural organizer who has been organizing around a variety of social justice issues for over two decades.  A movement-based performance maker and storyteller, Javiera is interested in the relationship between physical movement, intuitive ways of knowing and creative expression. She received her theater training at Double Edge Theatre, where she also worked as an associate artist creating performances, touring and training students. She is currently a cultural organizer with the Arts & Democracy Project and a worker-owner at Food for Thought Books Collective, a not-for-profit collectively-run bookstore in Amherst, Mass. She is originally from Santiago, Chile and lives in Holyoke, Mass.
GUEST INSTRUCTORS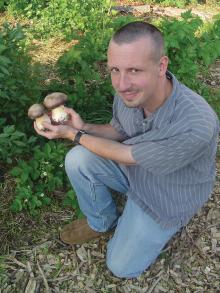 Eric Toensmeier has spent twenty years exploring edible and useful plants of the world and their use in perennial agroecosystems. He is the author of Perennial Vegetables and co-author of Edible Forest Gardens with Dave Jacke. His current project is promoting perennial farming systems, including agroforestry and perennial staple crops, as a strategy to sequester carbon while restoring degraded lands, and providing food, fuel and income, and ecosystem services. Eric ran an urban farm project for Nuestras Raíces (www.nuestras-raices.org) in Holyoke Massachusetts, providing access to land and startup assistance for Latino and refugee beginning farmers. His urban garden is a model of how to apply permaculture to a small space with poor soils, featuring over 200 useful perennial and self-seeding species on 1/10 of an acre.
Scott Kellogg is the instructor for R.U.S.T. (Radical Urban Sustainability Training) and a co-founder of the RhizomeCollective and has served as the director of its sustainability program for almost a decade. He has extensive experience designing and building sustainable systems, including constructed wetlands, aquaculture ponds, biogas and biofuel operations, windmills, passive solar devices, micro-livestock systems and many others. He has taught numerous workshops and multi-part permaculture courses in locations as diverse as post-Katrina New Orleans, Mexico, East Timor, and inner city America. In addition, Scott has participated in numerous campaigns for social justice over the years. He and Stacy Pettigrew are the authors of the book 'the Toolbox for Sustainable City Living: A do-it-yourself guide'(South End Press, 2008).




Abrah Jordan Dresdale is an ecological landscape designer and food systems planner. and residential living. Abrah has taught outdoor education at Vermont Wilderness School and Wild Earth Wilderness School. Her love of naturalist teachings inspired her to study botany and medicinal plants at the Wildflower School of Botanical Medicine, she completed her Master of Arts at the Conway School of Landscape Design and owns Feeding Landscapes, a sustainable landscape design and planning business in Greenfield, MA. She teaches Introduction to Food Systems at Greenfield Community College, and Permaculture Design Courses at UMASS, GCC, VT Wilderness School, and f.e.a.s.t.-Northampton. Abrah uses her mentoring skills paired with sustainable design knowledge as tools to facilitate positive change in partnership with people and communities.

Beehive Collective We are a non-profit art activist collective, dedicated to making anti-copyright illustrations for use as educational tools. Our mission is to "cross-pollinate the grassroots." We value collaborative work, creative problem solving, and dismantling colonial mentality. As the bee metaphor dictates, we are endlessly busy in the effort to illuminate the connections between single issues and the "big picture."



Jade Alicandro Mace  is a Community Herbalist grounded in the Wise Woman Tradition of Herbalism and greatly influenced by the ancient herbal traditions of Ayurveda and Traditional Chinese Medicine.   She believes that herbal medicine is the people's medicine, and that this knowledge belongs to everyone. Her focus is on self and community empowerment, equal access, local plants, simple and easy remedies, and the sharing and spreading of herbal knowledge.



Cynthia Espinosa. Prior to enrolling in AUNE to study environmental education, Cynthia worked at Nuestras Raices, Inc on  Holyoke, Massachusetts, as the Farm Program Manager, where she discovered her passion for educating the community about food justice movements, gardening, and Latino cultural connections to food. She designed her B.A. in Sustainable Food Management at University of Massachusetts Amherst and was highly involved in the empowerment of women in higher education through Greek life. She enjoys learning about the food systems and traditions of other cultures through cooking. Her passion lies in empowerment of the community through food and environmental projects in Holyoke, MA. Her ultimate goal is to teach at a community college part-time and run a self-sustaining farm with permaculture gardens and principles.